Our New York Infection Control course was especially written to meet the New York requirement for: dental hygienists, dentists, licensed practical nurses, optometrists, physicians, physician assistants, podiatrists, registered professional nurses and specialist assistants, medical students, medical residents, and physician assistant students as legislated in 1992 and updated in 2008.
NOT APPROVED FOR BARBERS AND TATTOO ARTISTS.
We are an approved provider by NY State Education Department #80870. Our course was specifically written to prepare healthcare professionals to identify child abuse and maltreatment/neglect and comply with the New York mandatory reporting requirements. This course meets the New York Child Abuse course requirement for: Chiropractors, Dental Hygienists, Dentists, Optometrists, Physicians, Podiatrists, Psychologists, and Registered Nurse, School Administrators/Supervisors, School Service Personnel, and Classroom School Teachers. Licensed Clinical Social Workers, Licensed Master Social Workers, Mental Health Counselors, Marriage and Family Therapists, Creative Arts Therapists, and Psychoanalysts.
This course will not fulfill NP inital licensure requirement, including Form 2b. This course was developed to meet the NY State requirement for prescribers licensed under Title Eight of the Education Law in New York to treat humans and who have a DEA registration number to prescribe controlled substances, as well as medical residents who prescribe controlled substances under a facility DEA registration number.
NYRequirements is a subsidiary of CEUFast Inc. . Since 1987, CEUFast has been providing quality nursing continuing education courses. Our nursing contact hours are accepted by virtually every state with courses available covering a variety of topics. We offer a free preview of all courses and tests. If you decide to use CEUFast you can purchase a subscription for only $30.00. Subscriptions provided unlimited access to certificates of completion for a full year from the date of purchase. CEUFast.com is an approved provider for the California Board of Registered Nursing, #CEP 13509, the Florida Board of Nursing and the Washington DC Board of Nursing #50-353.

CEUFast, Inc. is accredited as a provider of continuing nursing education by the American Nurses Credentialing Center's COA.
For more information please visit CEUFast.com.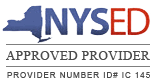 New York Provider ID# IC 145, as Mandated by Chapter 786 of the New York Laws of 1992