Nurses Should Embrace a Little Chocolate
Posted by Kristal Roberts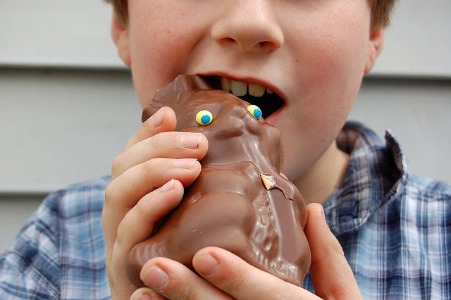 The Easter holiday is now behind us, but one thing sure to be left over everywhere is chocolate.
You may have already spotted a couple chocolate eggs or chocolate Easter bunnies at your hospital's receptionist desk. Or maybe they were tucked in various areas near nurses' admin area.
Either way, professionals like you already know the fat, sugar and calories in chocolate is filled with threats to your waistline and overall health---like obesity, diabetes and a number of other complications.
There's no doubt that's it's easy to give into a craving and take a bite, but you may appreciate the fact that certain chocolate has some seriously redeeming health benefits.
The cocoa bean used to make chocolate contains plant sterols and flavanols, which are very powerful antioxidants.
Chocolate rich in plant sterols and flavanols have been linked to improved memory, blood circulation, prevent strokes, lower cholesterol and bolster heart health.
In fact, a 2014 study published in the Nature Neuroscience journal reported that in a group of 37 adults ages 50 – 69, those who consumed beverages high in cocoa flavanols performed exceptionally better on memory tests than those consuming low flavanol drinks.
On average, participants in the high cocoa flavanol group performed with the mental agility of people 20 to 30 years younger! Scientists from Harvard Medical School also found that giving older people two cups of hot chocolate a day resulted in better blood circulation in the brain. After one month of drinking hot cocoa, these test subjects were better thinkers and performed better on memory tests.
Pretty exciting stuff right?
Well before you get carried away, keep in mind that all chocolate isn't created equal.
Choosing the Best Chocolate
To get the most health benefits, you want to eat quality chocolate that's high in actual cocoa. The magic happens here because the more cocoa that's present, the more flavanols there are.
Dark chocolate is also much higher in flavanols than milk chocolate. An added bonus from eating dark chocolate is it gives your skin added protection from UV rays.
Avoid chocolate that's gone through the "dutching" process. It's a processing method that removes most of the flavanols. If a chocolate wrapper or bar says "processed with alkali" on the nutrition label, it was processed by dutching.
Some of the more popular brands of chocolate with high concentrations of cocoa include Lindt's chocolate and Godiva.
When buying chocolate, sugar shouldn't be the first ingredient, and at the very least, make sure cocoa is listed before sugar.
Here's to your sweet tooth and your health!
LINKS
http://www.ncbi.nlm.nih.gov/pubmed/19735513
http://www.cbsnews.com/news/two-cups-of-hot-cocoa-a-day-sharpen-seniors-brains-study-suggests/
http://neurology.org/content/early/2013/08/07/WNL.0b013e3182a351aa
http://www.nytimes.com/2014/10/27/us/a-bite-to-remember-chocolate-is-shown-to-aid-memory.html?_r=0
---
Recent Posts
Categories