Posted 3/28/14 12:00:00 AM by Norlyn Golez
When some people say that they prefer to recover at home rather than in the hospital to avoid getting sicker than ever, they're probably right. That's because your expectations of a sterile room for new patients when you first come in may not be met. There are pathogens on the surfaces of the hospital room that are not easily removed even with the use of the strongest cleaning and disinfection techniques and chemicals. They are usually pathogens that cause healthcare-associated infections (HAIs).
HAIs are actually among the largest culprits in patient mortality and morbidity. These pathogens often come from the patient's endogenous flora, although studies have estimated that around 20% to 40% of these HAIs are actually from the healthcare personnel's contaminated hands as they got in contact with contaminated hospital surfaces or patients. Various researches have supported that environmental contamination does aid in the easy transfer of Vancomyn-re
---
Posted 3/21/14 12:00:00 AM by Norlyn Golez
Are you tired of eating the same meals day in and day out? Why not spice it up a little and experiment by trying some international foods at home. Some new flavors may be a little overwhelming at first but there's a world of culinary possibilities waiting for you to explore.
For starters, international recipe books, such as David Joachim's "Cooking Light Global Kitchen" can give you healthy and absolutely tasty foods straight from your kitchen.
The good news is that many international foods are effortlessly healthy. According to Joachim, many of their recipes are made of a reasonable amount of meat with plenty of vegetables. But his cookbook isn't intended for vegetarians alone.
The delicious Thai curry, for instance, uses ingredients such as antioxidant-rich mashed chili peppers, shallots, and lemongrass. These are then mixed with shrimp or any other food that you might want to try.
There are a number Internation
---
Posted 3/14/14 12:00:00 AM by Norlyn Golez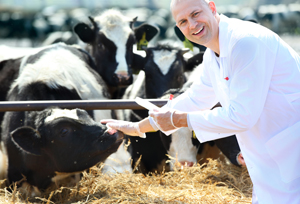 Veterinarian treating a cow
The world has so far successfully controlled outbreaks of infectious diseases, but it seems like there's no stopping the emergence of new microbes. Unfortunately, they're not only affecting humans and animals, but the wildlife ecosystems as well.
The ecosystem has grown vulnerable to such attacks because of repeated human interventions. Large scale and accelerated production of livestock, the fast paced trade and global travel of both pet animals and domestic livestock, and our increasing disruption of ecosystems are all contributing factors. As a result, new breeds of zoonotic pathogens have emerged.
Aside from affecting human health, these new pathogens have also wreaked havoc on the social, economic, and even political aspects of various countries. Just look back to what happened in the world during the spread of Severe Acute Respiratory Syndrome (SARS), which cost the global economy around $42 billion, the Middle East Respiratory Syndrome (MERS),
---
Posted 3/7/14 12:00:00 AM by Norlyn Golez
High blood pressure increases the risk of heart disease. But according to the latest research findings in Japan, this doesn't seem to be a problem for vegetarians, who have lower blood pressure than those who have a largely omnivorous diet. Then, is vegetarian diet good for preventing high blood pressure?
The Osaka research findings that are published in JAMA Internal Medicine have a meta-analysis based on the millimeters of mercury (mm Hg) of the participants who are divided into vegetarians and omnivores. The study found that vegetarians have lower systolic and diastolic blood pressure than omnivores in both clinical trials and observational studies. This reduction is consistent with that of a 11lb weight loss or a low sodium diet. Even a 5 mm Hg reduction in systolic blood pressure can shave 14% off your risk of dying from stroke and 9% off your risk of dying from coronary heart disease.
But the researchers also consider sever
---
Posted 3/1/14 12:00:00 AM by Norlyn Golez
Having trouble conceiving? It can be quite frustrating having to wait for months or years for some good news, while it seems too easy for other couples to get pregnant. It's still hard for experts to determine what could be the reason behind this. However, there are some tips that may increase your chances of finally having a baby, including the following:
Get over your soda addiction. Two or more servings of soda reduce women's ability to conceive by 16%.

Take better care of your teeth. Women with gum disease may delay your conception by two more months. Dental health should be maintained if you want to get pregnant fast.

Reduce TV time for him. Spending over 20 hours watching TV can reduce your man's sperm count as much as 44%.

Sleep better. IVF treatments are best supported with seven to eight hours of sleep every day.
---
Recent Posts
Categories
Archives